Since the Friday's Feast Chef has been out of the kitchen for quite some time (and may be for a while yet), I have decided to start my own version until he/she is able to return. I am calling it
It is generally the same idea, with just a little twist. Feel free to play along for some yummy fun! I will post a new one each Thursday afternoon for those that are on a different time zone. JOIN IN!!!
Food 4 Thought Friday
Breakfast
If you were given one extra hour everyday - how would you use that time?
I guess I would probably use it to read since that is what I am always searching for more time to do. Either that or get my photos organized in albums. I might be able to handle that for just one hour a day!
Lunch
What is your favorite season and why?
I love, love, love

spring!

I love the beautiful flowers (especially

Lilacs

- my fave!) and fresh smells after a long and dreary winter and the warmth of the sun that I have been deprived of for so long. I love the newness of everything. It is like an opportunity of re-birth for everything including me. I think New Years should be in the spring because that is when it feels right to set resolutions rather than in the dead of winter.
Dinner
Are you a tight squeezer, a delicate hugger, a back patter, a hand shaker, or a hands off completely person?
That depends on who I am with. For family and close friends, I am a tight squeezer. For friends and

acquaintances

, I am a delicate hugger. For those I don't know real well, a back patter, and for strangers I am just meeting, a hand shaker. I am very rarely a hands off person unless the other person's body language indicates they are.
Midnight Snack
Have you ever gone skinny dipping? If so where?
I'll never tell, but we did have an interesting experience at girl's camp this year. But to protect the innocent I will not write about that. If you want the story then you will have to ask me in person. ☺ However, I did go streaking when I was about 11 or 12. That was in the 70's when it was a huge fad. My friends and I had a slumber party and were outside running around during the night and decided to dare each other to streak down the street. Don't worry, it was pitch black, 1 o'clock in the morning, and I was 11!
Recipe for this Week
(instead of your recipe for life - what is it for just this week?)
I think it would be to not always take people at face value. Sometimes certain people may come across as not really caring or very appreciative of what you do. Then in one moment, you discover you were totally and completely wrong. I think this has taught me to always let the people you care about know how you truly feel, so they will have no question in their mind. Praise costs us nothing to give to others, so we should give it freely.
PLEASE PLAY !!!!

Come on you know you want to!
To play along go
here
~

haha

!
~~~~~~~~~~~~~~~~~~~~~~~~~~~~~~~~~~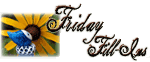 1. When I'm sick I'm usually kind of grumpy and always want a milkshake because my Mom always made me one when I was sick.
2. When I take a walk, I think about anything and everything that is on my mind at the current moment. Sometimes I will take gratitude walks where I just try and focus only on what I am grateful for. I always return so happy after those!
3. Money can't buy happiness but it can make you happy for a little while!
4. Cotton makes me feel cool (temperature wise) and leather makes me feel cool (stylin' wise!).
5. The strangest person/character I've had lewd thoughts about was __________.Sorry can't think of an answer for this one!
6. My favorite color these days is (is this one REALLY necessary!) because it is the ONLY TRUE COLOR!!!
7. And as for the weekend, tonight I'm looking forward to attending my son Bryce's high school football game, tomorrow my plans include going on my first run in a week! I haven't run since the half marathon (trying to let my body recover), attending McKay's football game, and maybe go out to dinner with Dave or do something with friends and Sunday, I want to try and not cry for reasons I can't reveal until Sunday.