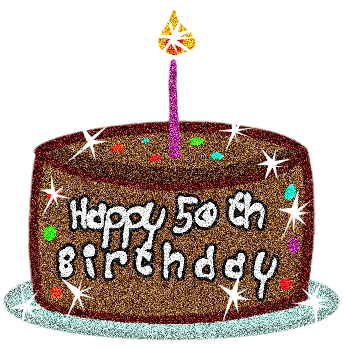 It's official! As of January 7, 2009, I am now married to an
Yep. Hmm... I guess that makes ME an

Old Geezer's Wife!

Yikes!
When he turned the Big 4-0...I had a lot of fun and threw him not one, but

two

surprise parties. One for all our friends and one for family. I really went all out with the Over the Hill stuff. But

not this decade!

I think

I am

more depressed

he is turning 50 than he is!!!
In honor of turning HALF A CENTURY! ... here are a few shots of his Passing Youth


Those big hands were made for playing basketball.
This is a newspaper shot of him ↑ (the tall one in white jumping in the center) when he was playing MY HIGH SCHOOL. We wouldn't even meet for another four years. We aren't sure if he is playing at his high school or mine. If it was at mine, I was for sure in the crowd watching!
Senior pictures↨
(soon to be senior citizen pictures!

hee-hee

)
←This was taken the night we announced our engagement. Dave's expression looks like a deer that is caught in the headlights! ☺
←
(Sorry - you will have to click to enlarge the small one...
I was having issues with Picasa!)
A couple of our college dance photos.


This was at the Hill Cumorah Pageant in New York.

↓

He played the part of Christ. We were both in the cast while we were engaged.
↓Niagra Falls ~ We did a lot of touring after the pageant.

Our Engagemant Photo↓

No longer a free man!

Our Honeymoon ↓

Med School Graduation ↓

Residency ↓
I still love ya even if you are a HALF CENTURY!!!!

The boys and I gave him a Shuffle Board for achieving such a mature status. After all...shuffle boards are for Old Geezers!


Actually this one is a blast and we have wanted one for a while. Here they are assembling it. I don't have a shot of it all completed but I will post that when I do.

We went to his favorite restaurant

(UTAH NOODLE)

for lunch to celebrate on Tuesday.

























And then last night we all went out to Maddox for dinner to mark the sad passing of his youth. He officially turned half a century yesterday.

This will help to keep it all in perspective:
THE JOYS OF BEING 50

1. Kidnappers are not very interested in you.
2. In a hostage situation you are likely to be released first.
3. No one expects you to run into a burning building.
4. People call at 9 p.m. and ask, "Did I wake you?"
5. People no longer view you as a hypochondriac.
6. There's nothing left to learn the hard way.
7. Things you buy now won't wear out.
8. You can eat dinner at 4:00 p.m.
9. You enjoy hearing about other people's operations.
10. You get into a heated argument about pension claims.
11. You have a party and the neighbors don't even realize it.
12. You no longer think of speed limits as a challenge.
13. You quit trying to hold your stomach in, no matter who walks into the room.
14. You sing along with the elevator music.
15. Your eyes won't get much worse.
16. Your investment in health insurance is finally beginning to pay off.
17. Your joints are more accurate meteorologists than the National Weather Service.
18. Your secrets are safe with your friends because they can't remember them either.
19. Your supply of brain cells is finally down to a manageable size.
20. You can't remember who sent you this list. (It's me...you're reading it here on my blog!)
And if that's not enough, check out

50 Reasons To Love Being 50
HERE.
JUST REMEMBER...
when it's all said and done...
↓
Yep!
Happy Birthday Hon!☺
And thanks for being the greatest, most wonderful, amazing husband on the planet! I know how very lucky and blessed I am to have you (even if you are an old geezer! - JK!♥)
Oh, and here's a little song to keep in your head all day...
Over-the-Hill-Song
On top of Old Frosty, All covered with fudge, Stand more birthday candles than a forklift could budge.
Each one stands for good times--And bad times, as well--Each one symbolizes a year shot to hell! H- E- double hockey sticks!
Don't lose your old gusto, Don't lose your old snap, Don't stay out till sunrise--You'll sleep through your nap!
Put the bad times behind you, Let the good times shine through, Just remember your prune juice, Whatever you do.
No use bein' grouchy, No need feelin' glum, The tough part is over, The best's yet to come.
Your friends will all love you, And care for you still, So gee ain't you lucky,
Your Over The Hill!

☺