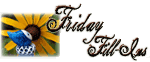 1. If I could be a fly on the wall I would love to visit many homes and see what really goes on behind closed doors!
2. Jealousy is
the art of counting the other fellow's blessings instead of your own. ~ (a great thought I once heard)
3. When I see a shooting star my wish would be that
what I wish for would really come true.
4. I'd rather be cheerful and grateful than depressed and down any day!

5. Certain songs when I hear them make me wanna go back to the time they remind me of.
6. If time were in a bottle
I would cork it up and save it for when I needed more!
7. And as for the weekend, tonight
I'm taking my SIL and kids to the airport after a great visit from them (I'm really going to miss them!)
tomorrow my plans include
running the Mantua Dam Race ( and hoping to get the t-shirt that says, "I survived the Dam Race!", attending a baptism, and getting my YW lesson prepared for Sunday,
and Sunday, I want to
take a nap and make some really yummy treat for my boys! I will also be glad to get Bryce back home after his trip to Bear Lake with his friend's family.