Feel free to play along for some yummy fun! I will post a new one each Thursday night for those that are on a different time zone.
JOIN IN!!!
Food 4 Thought Friday ~ This week's questions
Breakfast
What are you most grateful for at this very moment?
That my oldest son came home from college for the afternoon. I always love spending time with him. He brightens my whole day and outlook!
Lunch
Did this week's election results leave you feeling optimistic, pesimistic, or neither?
Answer even if you aren't a U.S. citizen.
At first I was VERY pesimistic, but now I have decided to accept the results and do my best to support the office - if not the man. I want to focus on the fact that I am so blessed to live in a free country and because of that I even had the privilege to vote!
Dinner
Name five meals you

repeatedly

have for dinner over and over.
Spaghetti, Taco Salad, Roast with the trimmings, Hamburger Soup (or other kind of soup), Stroganoff, (and almost anything cooked in the crock pot- I use it a lot!)
Midnight Snack
If you had a robot to help around the house, what three jobs would you have them do? What are three jobs you would not let them do?
Toilets! (and the entire bathroom), Vacuuming, and Dusting. I wouldn't let them do the laundry (I am picky about that), and....hmm... that's about it! They can have at the rest!
Recipe for this Week (instead of your recipe for life - what is it for just this week?)
Look for the good in all things. There is always something to be thankful for...always!

PLEASE PLAY !!!! Come on you know you want to!

Be sure and stop by the other's blogs who played along too!!!
~~~~~~~~~~~~~~~~~~~~~~~~~~~~~~~~~~~~~~~~~~~~~~~~~~~~~~~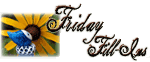 1. My blueprint for success includes work hard and keep a positive attitude.
2. A Hershey's Chocolate Gold Nugget was the last candy I ate.
3. The best facial moisturizer I've ever used is Mary Kay Extra Emoilent Night Cream.

4. Going out to lunch with friends, writing in a journal, running five miles, and of course blogging can be good therapy.
5. I'd like to tell you about my boys! Love them boys...there is always something I want to say about them!!!

6. Trying to focus on the positive? and faith is my strongest characteristic.
7. And as for the weekend, tonight I'm looking forward to attending my young women's area volleyball game (they won region!), tomorrow my plans include a church service project to rake leaves or watch McKay's basketball camp - (they are at the same time so I have to choose), sucking up a 7-8 mile run, cleaning, and maybe going to dinner and a movie with Dave and Sunday, I want to attend church, relax a bit (I'd say take a nap again but it never happens!), and then attend McKay's Priesthood Preview.
To play go HERE
Wanna win a CHOCOLATE INDULGENCE First Aid Kit???
Then BE SURE AND ENTER MY 200th Post GIVE AWAY!!!!
It's right HERE ↓