Since the Friday's Feast Chef has been out of the kitchen for quite some time (and may be for a while yet), I have decided to start my own version until he/she is able to return. I am calling it







It is generally the same idea, with just a little twist. Feel free to play along for some yummy fun! I will post a new one each Thursday afternoon for those that are on a different time zone.

JOIN IN!!!





Food 4 Thought Friday ~ This week's questions



Breakfast


Who was your role model growing up?



Lunch


Who would you turn to first if you were in desperate need of help?



Dinner


Are you generally organized or messy?



Midnight Snack


What do you do when you can't sleep at night?



Recipe for this Week

(instead of your recipe for life - what is it for just this week?)






PLEASE PLAY !!!! Come on you know you want to!



To play along go here.
~~~~~~~~~~~~~~~~~~~~~~~~~~~~~~~~~~~~~~~~~~~~~~~

MY ANSWERS:
Breakfast
Who was your role model growing up?
My cousin Shelley. She was nine years older than me and I idolized her. I wanted to be just like her! She was amazing. She passed away this past April from MS. She suffered so much in her last 20 years, but hung onto life with all she had. She continued to be a ray of sunshine to all who knew her until her last day. Love and miss you Shell!
Lunch
Who would you turn to first if you were in desperate need of help?
That is easy. It would be my Heavenly Father. He is the only one that I can always trust to help me through anything.
Dinner
Are you generally organized or messy?
I am generally

organizied

and can't stand messes. Lately though, I have noticed a change in my tolerance for disorder.
Midnight Snack
What do you do when you can't sleep at night?
I will usually get up and write in my journal. That seems to help me sort out whatever it is that is causing my insomnia. If that doesn't work and Dave isn't home, I will turn on the TV until I fall asleep. If he is home, I will get on the computer.
Recipe for this Week
(instead of your recipe for life - what is it for just this week?)
Never give up. Tomorrow is another day!

To play go here.
~~~~~~~~~~~~~~~~~~~~~~~~~~~~~~~~~~~~~~~~~~~~~~~~~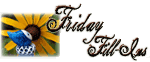 1. HALLOWEEN!, cool crisp evenings, hot chocolate, the beautiful color of fall

foilage

, garden squash, and caramel apples are some of the things I'm most looking forward to in October.
2. Sometimes I

wish I was magic!
3.

I held a snake

and that's why there is a saying, "never say never"!
4. When I'm down, I

try and focus on the power of gratitude to lift me back up.
5.

Watching football games

is where you'll find me most often.
6. A rainy day is good for

baking something yummy, curling up in a blanket with a good book, and staring outside the window watching the rain

.
7. And as for the weekend, tonight I'm looking forward to

nothing yet ~ no football game tonight (it's a bye), we might go see a movie (Eagle Eye)

, tomorrow my plans include breakfast at the church and then attending Especially For Youth with the Young Women, watching McKay's last football game, and attending the General Relief Society meeting, and Sunday, I want to

chill after church!
To play go
here
~~~~~~~~~~~~~~~~~~~~~~~~~~~~~~~~~~~~~~~~~~~~~~~~~~~~~~~
1. What dog do you most resemble?
Well that depends on the day and the time...
2. What is your favorite zoo animal?
The polar bear, hands down! They are so entertaining to watch! At the San Diego Zoo many years ago, we just stayed and watched them for so long because they act like little kids playing in the pool. I am also very entertained by the monkeys.
3. What zoo animal reminds you most of yourself?
What kind of a question is that? Hmm... I would say the Giant Panda. They like to eat and to play and aren't so good at climbing trees, like me. Plus they have those dark circles around their eyes like me when I stay up and play too much!
4. Do you have any pets? If so, how many, what kind, and what are their names? If not, would you like one?
Unfortunately I have none! NONE! Not a single one! (crocodile tears falling...) I LOVE all animals and I NEED a pet! I keep telling Dave that my babies are all older now and I don't have anyone to take care of that needs me, so I need a dog or a cat! But I still haven't convinced him. I hope one just shows up on my doorstep someday.
5. Have you ever ridden a horse?
Of course I've ridden a horse. How sad if I hadn't ridden one yet at this age! I've ridden several over the years. One of my first times was on a date as a teenager. I used to be a little afraid of them and that date didn't help any. My horse just took off so fast and I couldn't get him to slow down! Haven't been real fond of riding them since. Plus I tend to get real saddle sore! We took the boys on a long horse ride years ago up and around Sherwood Hills. I walked like Frankenstein for several days after!
6. Have you ever milked a cow?
Yes! It was on a field trip when I was teaching preschool many years ago! Not something I would like to do for a living!
7. Why don't sheep shrink when it rains?
Who says they don't!