Since the Friday's Feast Chef has been out of the kitchen for quite some time (and may be for a while yet), I have decided to start my own version until he/she is able to return. I am calling it
It is generally the same idea, with just a little twist. Feel free to play along for some yummy fun! I will post a new one each Thursday afternoon for those that are on a different time zone.
JOIN IN!!!
Food 4 Thought Friday

Breakfast
If you were to choose a new name for yourself what would it be and why? Were there any other names your parents almost gave you?
My parents almost named me Wendy or JoDean (after my Dad Dean). When I was a little girl I gave myself the play name Candice Ann White. When I was in second grade I wanted my middle name to be my first name and so I wrote Mae on all my papers and my teacher got mad at me in front of the whole class for doing that. When I was a teenager I wanted my name to be Kelli or Heather. But now, I just don't think I could change my name since I've had it so long. It would be like taking on a whole new identity.
Lunch
How do you usually spend your Sunday afternoons?
Always with family. After we get home from church we usually eat a nice dinner and sit around the table and talk for a while and then hang out at home. If the weather is nice we eat outside. After that I will work on my church stuff or sometimes go to a meeting. I usually read for a while and occasionally take a nap (it's always the plan but doesn't happen very often!) Once in a while we'll have friends or family drop by. I usually make a yummy treat for the fam and sometimes we will watch a movie together. On special days we will visit either my parents or Dave's parents. We pretty much kick back on Sunday.

Dinner
What would be your last meal if you were about to walk the green mile?
That would be a toughie! I love so many things I would want to have a taste of everything! I think I would start out with some soft, warm bread and a green salad with the works. Of course, I would have to have a chocolate almond Amore' drink to go along with it from the Olive Garden. Then I would have some soup. I love most all soups so not sure which kind. Then I would have a big helping of lasagna. I would finish it off with Carraba's Chocolate Dream cake. Mmmm...mmmm...mmmmmmmm!!! My mouth is watering already!
Midnight Snack
Have you ever broken any bones?
When I delivered Taylor I (well he) broke my tail bone. I also crushed the tips of all my finger bones on my right hand when they got slammed in a car door when I was pregnant with Skyler. Nothing requiring a cast though thank goodness!
Recipe for this Week
(instead of your recipe for life - what is it for just this week?)
Most people are much stronger but also much weaker than they realize. It is a good thing to realize you are stronger than you thought, but very humbling to see that you are also much weaker than you knew. And the realization of both can take you by surprise when you least expect it.
PLEASE PLAY !!!!

Come on you know you want to!
To play along go
here
~
(ha ha!)
~~~~~~~~~~~~~~~~~~~~~~~~~~~~~~~~~~~~~~~~~~~~~~~~~~~~~~~~~~~~~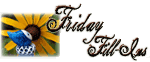 1. I enjoy laughing and having fun.
2. What is heaven really like is something I wonder about often lately.
3. In your heart, you knew where the path would lead.
4. Take a good attitude add a little gratitude and you end up with fortitude!
5. Life has gifted me with more than I deserve...an amazing husband, five incredible sons, wonderful parents, and great friends ♥.
6. A good book or a hot shower is an instant vacation.
7. And as for the weekend, tonight I'm looking forward to attending my son Bryce's varsity football game, tomorrow my plans include attending an incredible conference at our church for women and then my son McKay's football game and hopefully going out to dinner or chillin' with the fam and Sunday, I want to go to church and then relax, but I will be attending many meetings before and after church!
To play go here!