Since the Friday's Feast Chef has been out of the kitchen for quite some time (and may be for a while yet), I have decided to start my own version until he/she is able to return. I am calling it





It is generally the same idea, with just a little twist. Feel free to play along for some yummy fun! I will post a new one each Thursday afternoon for those that are on a different time zone.

JOIN IN!!!

Food 4 Thought Friday ~ This week's questions


Breakfast


What is one thing you look forward to each day? Each week?



Lunch
Are you a

hoarder

or a

chucker

?

Dinner
Do your dinner meals consist mostly of home cooked meals,

convenience

foods (i.e. boxed, frozen, heat & serve, etc.), or fast food? Who does most of the cooking in your home?

Midnight Snack


Has the rising cost of gasoline caused you to restrict, limit, or alter anything in your life? If so what?



Recipe for this Week

(instead of your recipe for life - what is it for just this week?)





PLEASE PLAY !!!! Come on you know you want to!




To play along go

here

♦♦♦♦♦♦♦♦♦♦♦♦♦♦♦♦♦♦♦♦♦♦♦♦♦♦♦♦♦♦♦♦♦♦♦♦♦♦♦♦♦♦♦♦♦♦♦♦♦♦♦♦♦♦♦♦♦♦♦♦♦



My answers:

Breakfast
What is one thing you look forward to each day? Each week?
Right now I really look forward to my run each day. I NEVER thought I would ever be saying that! I love being outdoors and feeling the fresh air and warm sun. There is something about being outside that just replenishes my spirit!
And for what I look forward to each week, I would have to say all my boys football games right now. I absolutely love going and watching them! I also look forward to Young Women's each Wednesday. We have so much fun and I just love being around the youth! And I can't leave out how much I look forward to going out to lunch, which hopefully happens at least once each week!☺

Lunch
Are you a hoarder or a chucker?
I am more of a hoarder. I really admire people that can just get rid of things so easily without a second thought. I am a very sentimental person and so it is hard for me to chuck certain things. But at the same time I hate clutter too, which tends to create a catch 22 at times!

Dinner
Do your dinner meals consist mostly of home cooked meals, convenience foods (i.e. boxed, frozen, heat & serve, etc.), or fast food? Who does most of the cooking in your home?
We almost always eat home cooked meals. Occasionally we will use convenience foods, mostly frozen or canned. Tonight we had meatball subs made with frozen meatballs and a jar of marinara sauce. Although while in med school the boys and I ate a lot of Spaghettios and Mac & Cheese (bleh!) since Dave was never there for dinner. We probably do fast food more often for a quick lunch on a Saturday than on a weeknight for dinner. If we are feeding the whole family we try and stick to the dollar menu! As for who does most of the cooking, that depends on when you are talking. Lately it seems Dave has been doing more than me, mainly because I think I am a little burned out, and besides he actually enjoys it so I would hate to deprive him of that! ☺

Midnight Snack
Has the rising cost of gasoline caused you to restrict, limit, or alter anything in your life? If so what?
We had real bad timing and bought another SUV right before gas really sky-rocketed when we still had our car. We were only going to drive the other one (which was getting real old) for fishing trips etc., but then I totalled the car (for that story go here) and so now we drive TWO SUV gas hogs! We are looking into getting a smaller car since we tend to put a lot of miles on both gas hogs! We haven't consciously limited a lot of things, but we are more careful when planning our excursions so we can avoid making more than one trip.

Recipe for this Week (instead of your recipe for life - what is it for just this week?)
Negativity is contagious and spreads like a parasite. When exposed to it, it is better to try and turn the tables immediately by changing the focus to something more positive before it spreads to everyone. All it usually takes (not always, but usually) is one person to insert something positive for others to see that they need to shift too.


PLEASE PLAY !!!! Come on you know you want to!


To play along go here



♦♦♦♦♦♦♦♦♦♦♦♦♦♦♦♦♦♦♦♦♦♦♦♦♦♦♦♦♦♦♦♦♦♦♦♦♦♦♦♦♦♦♦♦♦♦♦♦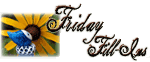 1. There is no need

to worry about things you have no control over.



2. Where in the heck did the

week go?



3.

Staying afloat some days

is all I managed to do.

4. Prospects for President of the U.S. are pretty slim

pickins

this time!

5.

Unconditional love

is the message.

6. Simplicity and tranquility are

always welcome here!



7. And as for the weekend, tonight I'm looking forward to

going to the Homecoming football game at the high school and cheer Bryce on,

tomorrow my plans include

finally getting in a long run, preparing my lesson for Young Women's, and attending McKay's football game,

and Sunday, I want to not forget all my meetings!, be prepared for my first board meeting as

Young Women

Pres., do a good job on my YW lesson, go to dinner at my parents, attend a meeting on scholarships at the church, and I guess forgo that nap once again!


If you wanna play go here!