Since the Friday's Feast Chef has been out of the kitchen for quite some time (and may be for a while yet), I have decided to start my own version until he/she is able to return. I am calling it
It is generally the same idea, with just a little twist. Feel free to play along for some yummy fun! I will post a new one each Thursday afternoon for those that are on a different time zone.
JOIN IN!!!
Food 4 Thought Friday
Breakfast
Do you use a day planner, calendar, notebook, computer program, PDA, lists on some random piece of paper, or just totally wing things to stay organized?
I use a day planner and have for most of my life. The one I have now is a large Folio size and so I rarely take it out with me. I also designed my own Week at a Glance sheet that I keep in my planner that has everything on it I need to help me stay on top of things. My biggest problem is making sure I look at it! I often don't and then I end up winging it thinking I can, but I always forget something important! We have a family calendar on the fridge too that helps get us where we need to be and when as well.
Lunch
What is something that you have too much of?
Testosterone in my house! All kidding aside, I can think of so many things. If you ask my husband he would say books. But is it really possible to have too many of those? Shoes, jewelry, purses, dishes (I love dishes!), clothes, wrapping paper, dust bunnies, etc. Too much of everything! It's time to de-junk!
Dinner
What is one of the most important qualities you need in a friend?
Someone that will accept me for who and what I am without being judgmental. And someone who is loyal no matter what.
Midnight Snack
Describe yourself using only three adjectives.
Positive (at least I try to be)
Compassionate (I really do care about others)
Fun (sometimes a little too much for my own good)
Recipe for this Week
(instead of your recipe for life - what is it for just this week?)
Everyone is in different seasons of their lives and just because I am in one doesn't mean that everyone is in the same one I am in. We need to allow others to be in whatever season they are in without trying to move them into a different one. Just let things be.
PLEASE PLAY !!!!

Come on you know you want to!
To play along go
here
~

haha

!
~~~~~~~~~~~~~~~~~~~~~~~~~~~~~~~~~~~~~~~~~~~~~~~~~~~~~~~~~~~~~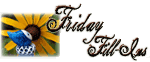 These were hard this week...
1. If I was to walk into your life, would you walk into mine?
2. Catch a bright star and place it where it's cold.
3. And you can send me to a tropical island.
4. Life goes on, but I'm dealing with a memory that never forgets.
5. I'm the innocent bystander / Somehow I got stuck in the middle of it.
6. What's keeping us apart isn't selfishness, it's stubborness.
7. And as for the weekend, tonight I'm looking forward to attending Bryce's varsity football game (he made a touchdown at yesterday's JV game! woo-hoo!), tomorrow my plans include running the Peach Days 10K road race with the last eight blocks of the route running in front of the parade crowd....yikes!, watching the parade, walking around and looking at the booths, attending Taylor's football game that night, and Sunday, I want to do a good job at church as my first official week as YW President.
To play go here!